Havoc Studios July 2020 Newsletter
Havoc Studios
July 2020 Newsletter
Preparing for the Future
The year is half over! As August rolls in, we are preparing to clean up our work on Havoc Fox to get our next public demo ready. We hope our development live streams have granted insight into our work and that you'll enjoy everything we've put together this year!
Expanding the Cast
The Havoc Fox lineup is close to filling up as we welcome new voices for Filament, Ulysses, and Camille!
Filament, a mad scientist, tends to manipulate those around him in order to fulfill his needs. This manic inventor rarely does anything helpful for the greater good. Filament will be played by Patrick Mealey, known for his talent in works such as War Islands and The Divine Speaker.
Ulysses is the riches-to-rags butler of Wess. Don't let his polite and professional demeanor fool you; Ulysses is loyal to his boss and isn't afraid to break out the moves he has at his disposal! Ulysses is voiced by John Patneaude, whose talents are also heard in Light Tracer 2 and Tailor Tails.
Camille is shy; however, she is also Gin's secretary. She tends to be on edge due to Gin's antics and has proven herself to be a capable bodyguard, usually by keeping Gin under control. Camille is voiced by Claire Thomas, who can be heard in Monster Sweethearts and Foxy and Wolfy Chaos.
Current Development Update
This month, we began work on the second half of Miracle City.
In the previous build of Havoc Fox, Miracle City cut out just before encountering the cafe where a mid-boss fight with Antarc takes place. The fight begins with Antarc on her motorcycle while members of her gang cheer her on from the sidelines. She will fire upon Venice and dash across the screen which players must evade to avoid taking damage. After taking enough hits, Antarc will drive off-screen where players must avoid her attacks from above and retaliate appropriately.
After fighting Antarc, Venice and Spooky must overcome various obstacles on a speeding train traveling through the city. Various platforms, puzzles, and enemies will appear along the way to slow you down. Jump, learn, and fight your way through the railcars to reach Lyle, the stage's boss!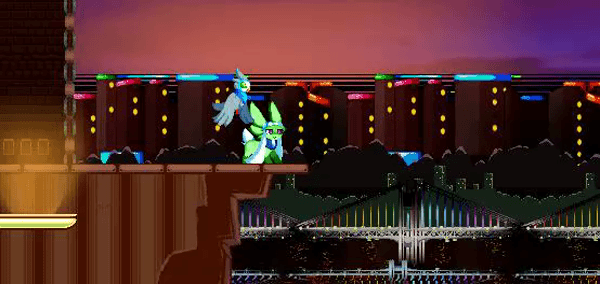 Miracle City's second half, along with the rest of the stage, will be available in the next alpha build of Havoc Fox at SAGE 2020!
That's all for now!
These next few months will be challenging, but we are committed to growing and improving our game! If you haven't already, be sure to follow us on Twitter @havocfoxgame. Join the conversation in the official Discord server: http://discord.gg/havoc-studios. Support us on Patreon! Check out the original soundtrack and development live streams on our YouTube channel!
Thank you for reading the July edition of the Havoc Fox Newsletter. Stay safe, stay healthy, and we hope to see you again in August!